… and a good woman is not that much easier.
Let's begin with a startling statistic – according to research by Sara Konrath and her colleagues at the Center for Building a Culture of Empathy, 75% of college students have ECD (Empathy Circuitry Deficiency). In the larger population, where will you find the most empathy? In women in their 50s!
If empathy is not a relationship dealbreaker for you, then things are looking up. Siri and
Alexa – America's smart speaker sweethearts – will soon have male versions no doubt; and Artificial Intelligence companies are pouring billions into research such that you will one day soon be able to carry on an "intellectual" conversation and never know you're talking to a bot, especially as they become confessional and demonstrate a dry or wicked sense of humor (your choice). And those bots will be programmed with all of the 34,000 words describing granular human emotional states; they just won't be able to actually feel them when they talk about them. Much like that 75% today, when you think about it!
A Shift from the Right
So why exactly have our empathy circuits taken a turn to the left? Bonnie Badenoch, of Brain Wise Therapist fame, has a pretty good idea: "If our right hemispheres harbor significant trauma in the form of unhealed fear and pain or we feel overwhelmed by the sheer volume of incoming information, we may adaptively shift toward left dominance in an effort to protect ourselves from a crippling onslaught of unmanageable inner and outer experience. . . . We know that the circuitry for empathy is inherent but needs sustained connection with others to mature. As we move away from our right-centric relational capacities, the nourishment of that developmental process is less available. Not surprisingly, there has been a concomitant rise in narcissism among the population as the left shift has increasingly cut us off from this relational circuitry and a felt sense of connection."
Assuming Bonnie's onto something, what then shall we do? Well, we're going to have to begin doing things that shift the current left-hemisphere dominant culture into one more balanced with the right hemisphere. In the process of making that shift, we're going to have to begin connecting with other people. In that connecting, and in the activating of that right brain circuitry, we're going to inevitably stir up and kindle buried, painful traumatic memories. Only instead of simply reactivating them and adding yet one more painful experience memory to the storage vault, we're going to have to do the work of integrating them. And today we know two good things about how that might be accomplished.
Two Times Two is Twenty-Two
The first thing we know is that accessing painful memories buried in the depths of the right hemisphere doesn't have to be done all at once in a single painful cathartic emotional up-welling. Rather, such exploration and activation can be done in a slow, deliberate, titrated manner. A skilled therapist, friend or healer can often seem to work with these buried memories one lonely nerve fiber at a time and restore it to active, healthy function as part of our increasingly integrated, expansive neural network.
The second good thing we know about what can work to accomplish healing integration is that more and more research is telling us that the body has to be involved. If, as Cambridge computational neurobiologist Daniel Wolpert claims, the brain evolved primarily to move the body, we're going to have to learn and experiment with healing ways to return and re-move the body in ways that can lead to whole body-brain integration. And odds are, it's going to hurt.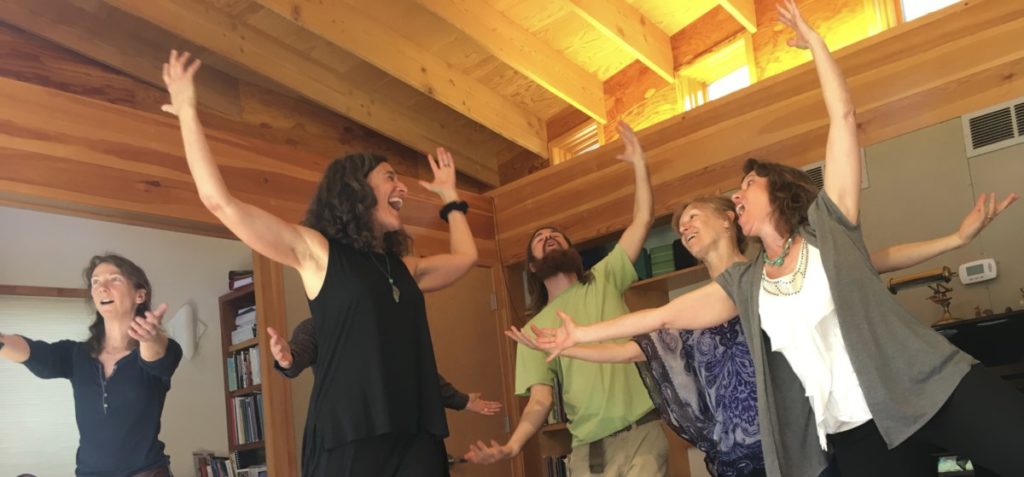 The current signature line in my email account carries this message out to my circle of regular contacts from Episcopal priest, Cynthia Bourgeault: ​"The most profound product of this world is tears. Tears express a vulnerability in which we can have our heart broken and go right on loving. That's our business down here. That's what we're here for." Not only are we going to need to see more crying in baseball, but in all the locker rooms and bedrooms and doctors' offices all over the world – men's and women's – if we are going to move the needle on this empathy circuitry deficiency. Keep tissues within handy reach.

And if you're curious about the surprising role that The Science of Social Safety (Polyvagal Theory) might play in moving you, me and the rest of the world into greater right brain harmony, balance and integration, simply click HERE. Nothing bad will happen if you do. I promise it's totally safe to at least check things out and you're under no obligation.