After 17 years of marriage, one day it became apparent that the mere sight of my daughter's mother would send my adrenal glands into hyper-overdrive. The main way I was able to regulate those organs was mostly to avoid her – to go missing in action. My avoidance/abandonment would then do the same thing to her adrenal glands. And round and round we'd go. Hundreds of hours and thousands of dollars worth of psychotherapy had failed to help. The idea of actually being able to work with and repair the networks holding stored traumatic memories in each others' brain and body was a completely foreign concept to therapists at the time (and for many, still is). Consequently, no therapist ever taught us anything useful about our neurobiology or offered regular practices to help manage the childhood-conditioned, threat-detection neural circuitry we were each triggering in the other. The only workable solution seemed to be for us to separate.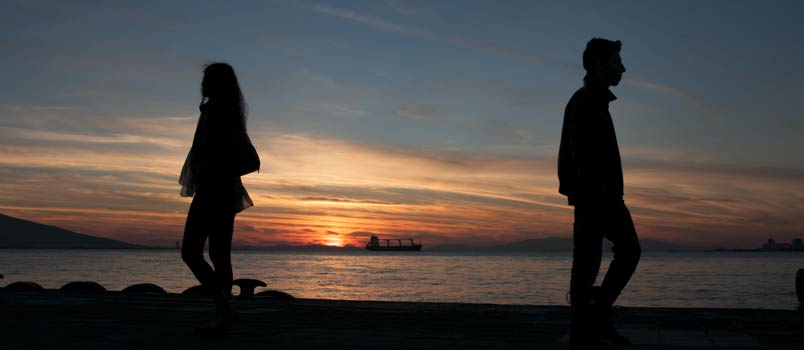 How best to accomplish this separation in a way that would cause the least amount of harm for the three of us? For me it was a sincere dilemma. The larger culture didn't offer many models to look to. I thought we might simply separate emotionally while continuing to physically live together in the same house. It was large enough for each of us to have our own bedroom and work spaces.
Before I could broach that possibility however, my daughter's mother informed me that she had taken a family loan and gone out and bought another house and would be moving her and my daughter into it. Less than a week later I came home from work to find both of them gone and a realtor's For Sale sign in front of our house. I immediately broke it into bits and tossed it in the trash. 
The Jesuit Perspective
Malcolm Gladwell recently offered up a three-part Revisionist History podcast on "Thinking Like a Jesuit." Essentially, Jesuits practice casuistry. As Gladwell defines it, casuistry means: "resolving specific cases of conscience, duty, or conduct through interpretation of ethical principles or religious doctrine."
The Jesuits begin with broad ethical principles and religious doctrine, but then morph and adapt it to fit particular cases. Gladwell presents a compelling case of how the Jesuits applied casuistry to convince the Church to accept birth control. It was ultimately accepted as a means of reducing Catholic suffering that comes from birthing too many children into the world that two parents alone can't sufficiently care for.
Minimizing suffering in the wake of my marriage dissolution was also high on my list of ethical, spiritual and neurobiological principles. One day while out walking the trail around Crystal Springs Reservoir in Hillsborough, California I was delivered a message by vox divina. Two older men were walking towards me on the trail and when they got within earshot, I heard one say to the other, "No matter what else you do, by all means, avoid the lawyers."
If my intent was to reduce suffering in THIS particular instance, avoiding lawyers sounded like divine instruction to me. And so I did. Rather than pay a lawyer, I could contribute those fees to my daughter's support. My ex-wife hired a high profile, Silicon Valley lawyer, however, who charged her a small fortune. In the end she pretty much ended up with what she would have gotten had we both hired a mediator. In the wake of the separation – with suffering-reduction as my overriding concern – I agreed to co-sign for the mortgage on her new house; I installed a skylight and new dishwasher in her kitchen; and I mounted a brass nameplate on the door to her home office. Through it all we each had the well-being of our daughter paramount as our concerns, and to this day we are on amiable speaking terms where Amanda is concerned. 
Ultimately, in my estimation, there is only one good reason to cultivate Jesuit Brain or any other kind of brain, for that matter – in order to do what we can to reduce human suffering. Out of that cultivation we very often surprisingly find ourselves able to take human suffering … to heart.